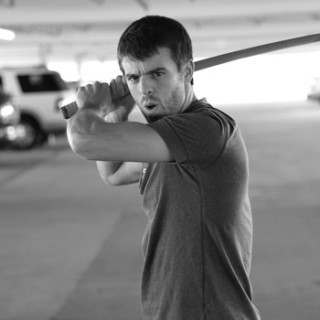 Curtis was imported from Milwaukee, Wisconsin, to take the reigns of design, layout and user experience on Melaroo projects. His joining the team marked the culmination of a six-month search for the best design lead we could find. While formally schooled in graphic design, it was the skills he developed through hands-on experience and self-education that put him in the top echelon of his profession.
Curtis took seven years of piano lessons can't play the piano. But he does play the drums. An avid sports fan, Curtis likes the Green Bay Packers about as much as the average Wisconsinite, which is actually a whole lot. As much as he plays basketball, you'd think he would be in the NBA by now. While not an extremely adventurous eater, he's a good sport for the most part and is expanding his horizons. He really loves pizza, and the Cuban sandwich at Sam's Burgers, Fries and Pies.
Curtis married Kate in June 2012 in a park in Union Grove, Wisconsin, amid a torrential downpour, which we understand to be a good omen of many blissful years of boundless domesticity. They now live together in Katy, Texas, and are expecting their first child. They're quite involved at their church, assisting on the worship team and in youth group.